*Please note that this post contains links that are for mature audiences only. If you are under 18 years of age, please do not click on these links.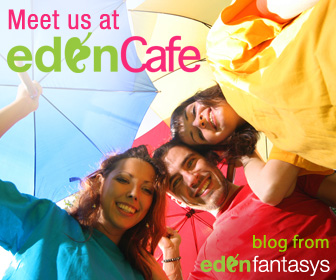 I love blogging! But I find that at times I get so caught up in it that I let other things in my life sort of fall to the wayside. The most important one of all is my husband. I have found a solution in EdenFantasys.
EdenFantasys has an updated Ambassador Program for bloggers
.

Write a minimum 100 word post or testimonial on your blog and in return EdenFantasys will send a
gift card code through your email that you can use to select a product of your choice. You don't have to post about the product you received especially if it something you don't want your co-workers or friends to see. So what can you write about? Love or marriage, how you keep your relationship alive, or even write about your shopping experience. The possibilities are endless. It really is up to you what you chose to write your post abo
This is not the typical adult store. Eden Fantasys has an active community that provides education about the topics of healthy sexual activity, safety regarding sexually-oriented products and much more. Check out the forums where members can ask questions or give their opinions. They value your privacy and any product you order will be shipped tightly sealed in plain brown paper, and the return label will not give any indication of where it came from or what could be in the package.
Would you like to participate in this program? It is easy!
How to qualify for the Ambassador Program?
You must have an established, active blog that is at least two months of age and is publicly accessible. Your blog should be updated regularly, with no more than a month's worth of time lapse between blog entries.
How to get started?
Simply create a free account at EdenFantasys and activate the Ambassador Program. You will be instructed to email
ambassador@edenfantasys.com
with your EdenFantasys username, as well as your blog URL. They will get back to you with a welcome email and more information.
Now I can blog, and in return find something to keep my 25 year marriage spicy and my husband happy. Now that is multi-tasking!!