I am a recipe addict and have many cookbooks around the house (some are older then me) and I am constantly looking on blogs and recipe sites to find something different to try. It is great to find a good recipe and then add your own personal touch to make it your own signature dish.
Mommy Only Has Two Hands Chili
Heather from
Mommy Only Has Two Hands
has done just this with a chili recipe I posted a while back. My dad's chili recipe was one that was known for being delicious but extremely spicy. I grew up eating spicy foods but my husband did not so I had to adjust the chili for my family's taste. The best thing about this chili recipe is you can add more or less to make it suit your tastes. The base of the recipe is what makes it so easy to work with and change it up.
Heather added her own ingredients such as cilantro and minced garlic. She could not find any tomato juice so she substituted tomato sauce. It looks and sounds wonderful!
Heather and her husband liked the chili recipe so much that she gave it the Favorite Recipe Award. This is an honor, because I always worry about the recipes I put up, whether someone else may like them as well as we do. I am so happy this turned out so well.
Thank you Heather for trying my recipe and liking it enough to give me this great award!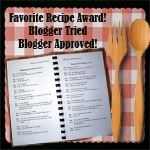 Please check out Heather at
Mommy Only Has Two Hands
and see her personal touches for the
chili recipe
.
I have included the link to the original
Chili Recipe Post
as well.