I have come across some great blogs while surfing that are loaded with wonderful stories or advice. These blogs need to be shared so that other bloggers can enjoy them as well. I am starting a new post on my blog. Every Thursday will feature one blog that I have come across during the week that I think and hope you will enjoy.
This weeks (and first) Featured Blog is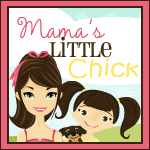 Mama's Little Chick
is chocked full of positive stories and inspirations. One of my favorites is
Borrowed Time
. This post talks of living life to it fullest and being grateful for every moment we have. Mama Hen says in her About Me "
Since I was just a little girl I knew that my one true goal in life was to be a mommy

." "
I love being a mom more than anything!" It shows throughout her blog. I hope that you take a moment to visit
Mama's Little Chick